The core members of this magnificent Band of Reggae Scientists
Black Slate
strike again; after forty years in the business.
This time they are leaving their monument set in stone with A Peaceful Demonstration…
Anthony-PureSilk-Brightly (key Boards), Chris-Musichouse-Hanson (Lead/Rhythm Guitar) and Desmond-Drummy-Mahoney (Drums/Congo);
They have earned the right the stand amongst the greats in the world of reggae music, because like the female energy that tends and nurtures life, they have developed and nurtured their sound from a vibe with a unique audio ID, which has taken well over forty odd years of research and cultivation with the help respectfully of previous band members, new members and session musicians who all have played a part in assisting this great seed of musical wealth.
Anthony-PureSilk-Brightly (key Boards);backed by a father's love for music from jazz to sound systems, groups to recording/producing; the young key board player got the DNA explosion to ignite his passion for reggae music from home and it found Black Slate Chris-Musichouse-Hanson (Lead/Rhythm Guitar); the mature wisdom of the band was a hard working electrician. A young man who's passion for reggae cause him to move in musical circles until the magic touched him, eventually joining forces with other great reggae orientated minds, then the ultimate Black Slate which was named from his then trade.
Desmond-Dummy-Mahoney (Drums/Congo); an engineer with light feet, excellent tradesman in his field, but he was an even greater dancer on the reggae youth scene and to top that a Drummer extraordinaire with boundless limitation aimed at reggae music. This skill he brought to the table with pure love which found
Black Slate These three in depth core members dedicated to reggae music with such a passion, that even with the split of the first and very successful Black Slate they never gave up.
They stuck it out respectfully:
Anthony opened several successful reggae night clubs, recording, producing many different artist plus labels, also joint entrepreneurial ventures with Chris his life-long-friend  Chris'selectrical skill's kept in the music business when he created Music House which amassed its own instant fame from cutting dup plates and masters for every genre that required it in the music industry.
Desman taut and keep reggae alive in community workshops around the country, developing his skills constantly to greater heights, plus recording, producing and promotions/showcasing of new talent.
These three core members financed their endeavours throughout these forty odd years with the true essence of Black Slate energy vibes, which could only be tapped into by love True Love.
The love that these three reggae scientist omitted when they researched individually occasionally crossing paths, but ultimately never forgetting their collective purpose in life Black Slate which they have proven without a doubt with A Peaceful Demonstration…..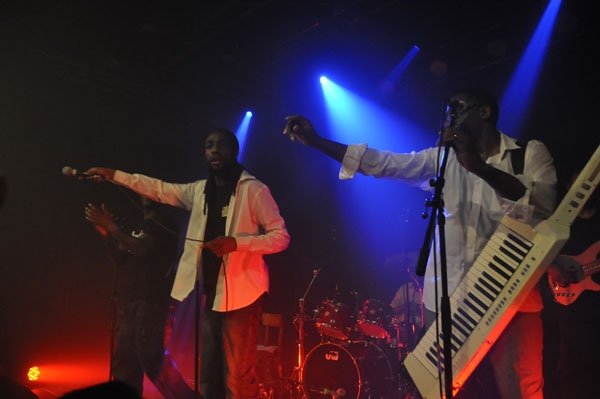 Not forgetting
Black Slate's most recent gems that the core have added to this
Reggae Force Black Slate:
Colin-Steam-Fish-McNiesh (Bass) with many years of playing experience under his belt which he has shared heartically with
Black Slate
Jessie-Energy-Brade (vocals) Stage Name J.E.B. expressing his vocal skills by powering-up the musical spine of
Black Slate, he is an industrial power-house of energy stepping rhythmically in the same direction
Black Slate
Gaven Magic Voice Creary (Lead Vocals) Stage Name G.M.B. the newest member of the band who is only just getting started, youth vocals at its best and willing to share his versatility with the great reggae force
Black Slate
All in all with past members, the newest editions, forty odd years in the business, this tidal wave of reggae force is heading towards the hearts, minds and souls
and whoever else that gets converted along the way by
BLACK SLATE
As they deliver
A Peaceful Demonstration…………
BLACK SLATE
(VIBE EXPANTION)
How do you make three into twenty-four without maths, the answer is magic……!
The magic of vibes
Roots Rock Reggae vibes perfected by
Reggae Scientists
Black Slate
This was perfectly performed at
A Peace Demonstration
Held at Bibelot in Dordrecht,NL and the 4AD in Diksmuide BE.
Black Slate
And their roots rock reggae vibes expanded and fed their very tentative audience.
Totally captivated by this four peace big band sound
That's how you do it……… with
A Peace Demonstration
If you have not experienced the Roots Rock Reggae Vibes conveyed with Black Slate Love,
Then that is your next mission
Should you choose to accept this mission to seek, experience and enjoy the beautifully delivered live sounds of
Black Slate
at
 A Peace Demonstration
Near you,
Where you can obtain the crucial tools of your listen trade the LP
A Peace Demonstration
Plus all the other tools you will need should you take this mission to seek…!
Black Slate
And
A Peace Demonstration
(Good Luck Enjoy…!)