GROUNDATION DROP THEIR SINGLE FROM UPCOMING STUDIO ALBUM
"ORIGINAL RIDDIM" FEATURING ISRAEL VIBRATION & THE ABYSSINIANS OUT NOW ON BACO RECORDS/EASY STAR RECORDS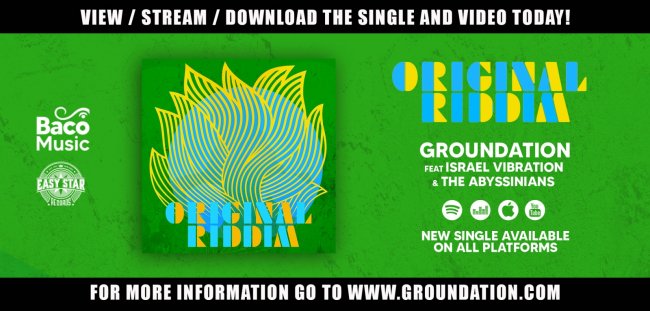 More than two decades into a storied career, Groundation returns this year with their 10th studio album, One Rock. The band, formed in 1998 by vocalist/guitarist Harrison Stafford, has helped define American roots reggae, while building a large and loyal following in Europe and Brazil, where they have been a consistent major headliner and festival attraction for years. One Rock keeps their sound and legacy moving ever forward through 9 intense songs featuring complex arrangements, moving melodies, and lyrics that touch on the human condition, human spirit, and the state of the world. Always a group to respect their elders and forebears, Groundation makes history yet again by bringing together the legendary reggae vocal groups Israel Vibration and The Abyssinians on the record's first single, while also working with The Congos on another track. One Rock is set for release May 13, via a partnership between France's BACO Records and the U.S.'s Easy Star Records. You can pre-save or pre-order vinyl, cd, and an exclusive tee shirt at https://moremusic.at/OneRockAlbum.
 
The album's first single, "Original Riddim," dropped on January 13, kicking off the pre-order period for the release. This song tells a universal story of how music is a part of the spark that began our human experience, "opening up the heavens of possibilities" and "expanding our minds into infinite degrees." "Original Riddim" also welcomes the listener into the conversation, as Stafford provokes listeners with the line, "Before man walked and talked about, they formed a union where no tribe was left out, you are not left out!" A music video for the song, directed by Roger Hall and filmed on location in Jamaica, New York, Texas, Florida, and California, is being released the same day as the single. Just as the song brings together Israel Vibration and The Abyssinians for the first time, the video also treads new ground by having both groups, along with The Congos, alongside Groundation. 
 
CLICK HERE FOR ALL MUSIC PLATFORMS
https://moremusic.at/OriginalRiddim
 
Look for much more news about Groundation and One Rock in the coming months leading up to the album's release!