JUNIOR TOOTSReleases New Single Today"Fayah Fi Di Wicked"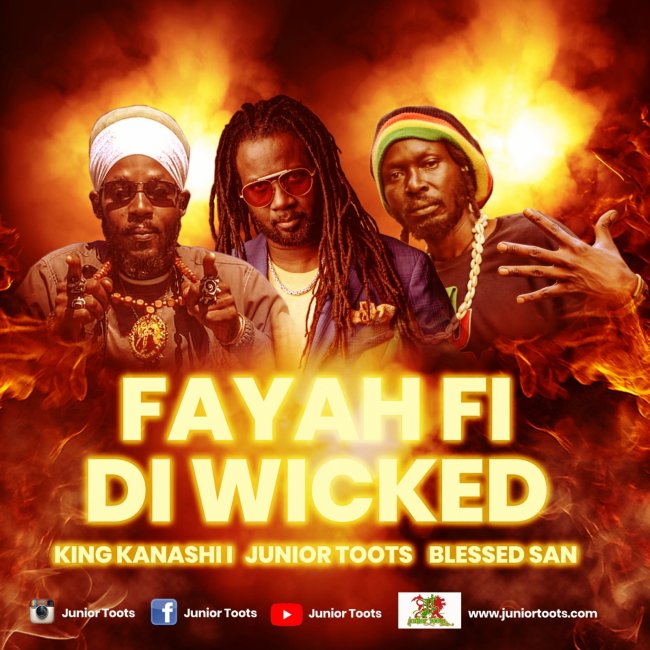 September 1, 2022 ~JUNIOR TOOTS releases new single today"Fayah Fi Di Wicked" featuring King Kanashi from the Virgin Islands and Blessed San from Uganda on his Crown of Fire Record Label. The single is produced by Soulfyah Productions from the UK and is out now on BANDCAMP.
About the new single, Junior Toots shares, "This is a universal collaboration talking about the stress and frustration that the whole world is feeling and is a prayer for the sick, prayer for the poor, prayer for the people them living outdoors."
Acclaimed international roots-reggae crooner, Junior Toots, the son of the legendary Toots Hibbert of Toots & The Maytals has been a mainstay in the recorded and live music scene for decades and with an ever-growing fanbase.

He's managed to captivate audiences worldwide with his electrifying high-energy stage performance, soul-filled vocals and socially charged lyricism, along with catchy, singalong Jamaican-rooted original tracks.In the midst of social turmoil, he stays positive and focused on being the change he wishes to see.

From 1997 until 2004, Junior Toots toured with Toots and the Maytals, opening shows with his "Holding Firm," "Jah Give Us Victory," and other tunes. He continued touring on and off with Toots and the Maytals, as well as working on compilations with various musicians in California and recording Reggae/Hip Hop singles with Toots in Jamaica.

Other Recent Singles & Collaborations include:
"Heart of the City" – GRW ft. Junior Toots
"His Name" – Akwerius ft. Junior Toots
"Green Lights" – GRW ft. Junior Toots
"Love The Herbs"
"Love Is The Best"

Junior Toots also recorded with Everton Blender, Mikey Spice
and Jack Radics on the acclaimed
"Reggae Mood Swingz" compilation
and many more.

ALBUMS PRODUCED BY JUNIOR TOOTS:
CROWN OF FIRE, REGGAE GOT SOUL, GUIDANCE STAR
and A LITTLE BIT OF LOVE, which hit Top #10 on the
NACC World Charts.
MOVIE/TV SOUNDTRACK CREDITS:
Justice/ Youth Suffer, LUKE CAGE (Netflix),THE WANNABE (Electric Entertainment),UNFINISHED BUSINESS (CENTURY FOX),WETLANDS (Sundance Film Festival),
NUIT DE LA GLISSE/ Addicted to Life

Click image below to listen to another new single:SUNSHINE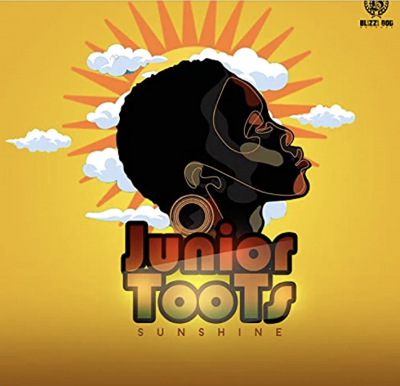 Junior Toots has performed in an array of festivals, such as the Sierra Nevada World Music Fest, Reggae on the River, Reggae on the Mountain, San Francisco Reggae Fest, Bethlehem Pennsylvania STEAM fest, Reggae in the Hills, Musikfest and Seattle Hempfest to name a few. He has also shared the stage with: The Wailers, Barrington Levy, Capleton, Anthony B, Yellow Man, Lee Scratch Perry, Toots & The Maytals and many more.
Junior Toots was born in Jamaica and alternated living between the states and Kingston staying close to his legendary father, Toots Hibbert, of Toots & The Maytals. With inspiration and encouragement from his father, Toots began singing on stage at a young age and traveling to his father's shows. Having the essence of Jamaica, a strong love for Jah and theRastafarian culture, Toots embodies his life-learning in both his recorded music and live shows.

"I aim to continue spreading peace among people of all creeds, religions and color through my music and philanthropic missions. After witnessing so much violence in my homeland, I vowed at an early age to promote goodness, fairness and equality in all I do and with those I am blessed to work with. It's what drives the music I write and present to the world," ~ Junior Toots

PRESS:
August 30, 2022 JAMAICA OBSERVER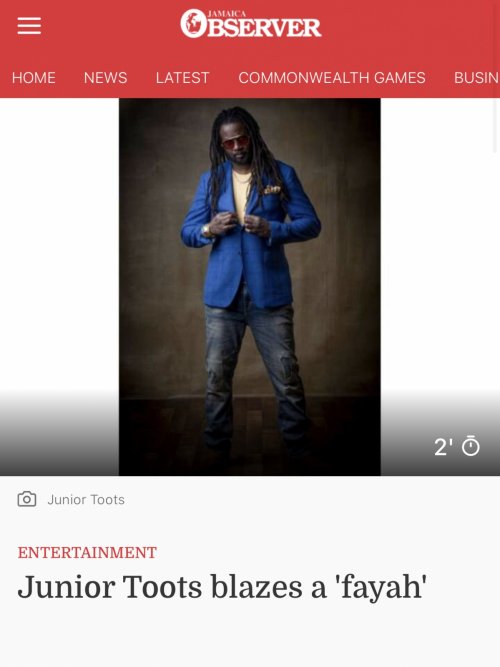 JAMAICA OBSERVER
JAMAICAN GLEANER
JAMAICAN STAR
WORLDAREGGAE
Click Here to Watch Junior Toots"Physically Spiritually"Official VideoINSTAGRAMFACEBOOKSPOTIFYSPOTIFY