Paris…
Zed2dizee Music Presents Party #2
5 NOVEMBER 2022
Live Reggae Show featuring
ZION HEAD, AWA FALL, MAMAKAFFE, more!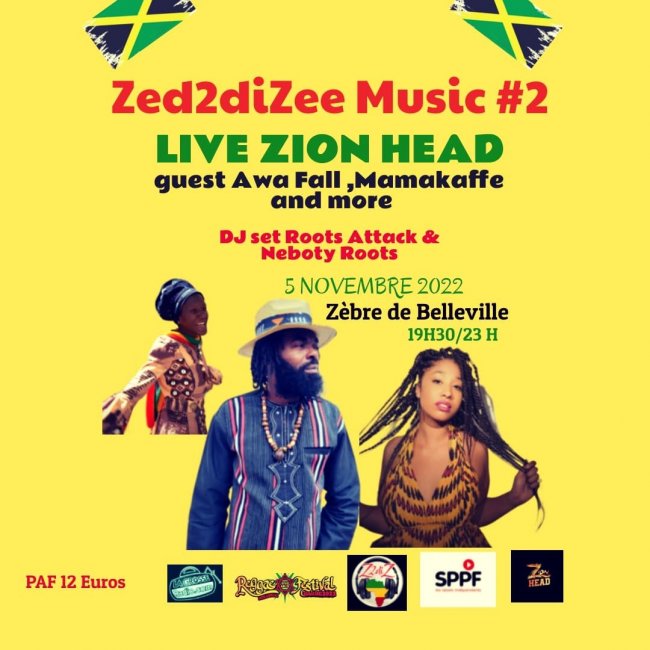 Price 12 euros
November 5, 2022
AT ZEBRE DE BELLEVILLE
63 BOULEVARD DE BELLEVILLE 75011 Paris
~ Set Neboty Roots; Anthony Nebot the pioneer of sound system events in Paris, will join us to warm up the room with his pure
roots reggae selections.
9 p.m. / 11 p.m.
~ Live Zion Head Dj Roots Attack – he will present his recently released album Jah Watching as well as some tracks from his album to come in 2023.
Indeed Zion Head combines his musical career, but is very invested in his label Z2DIZ Music through which he lives his passion. Before his EP "Jah Watching" released in March 2022, he had five albums to his credit on this label: Planet Earth riddim in September 2020, Jah Jah Time in July 2021, Isolate Riddim in July 2021, Bamboo Tree riddim in November 2021 and the Wake the Town riddim in March 2022. He also produces his friends who live in Jamaica and Europe as well as other renowned artists to whom he calls, and realizes his dream of working on the riddim and the works of each of his collaborators.
Currently he is working on his upcoming album as well as a various artists project.

~ Live Awa Fall Dj Roots Attack, coming straight from Milan in Italy, this talented artist comes to represent the works she has produced for the Z2DIZ Music label.
Many critics consider Awa to be one of the most beautiful Reggae / World Music voices in Europe.
At only 22 years old and after having sung all over our continent with an average of 100 dates per year (playing in all the most prestigious Festivals such as Rototom Sunsplash, Overjam, Dub Gathering, Dub Camp but also the Bergamo Jazz Festival) he is an artist of Senegalese origin is preparing to conquer the international scene, broadening the horizon of his music.
Reggae and Afro music remain in the heart of the very young reggae "star", but producer Walter "Bonnot" Buonanno (Assalti Frontali, General Levy, Dead Prez) has carved out an important record that aims for a real qualitative leap.
We are delighted to receive her in Paris.
~ Live Mamakaffe Dj Roots Attack, comes to present part of his new album to come in 2023. The French Ivorian singer evolves between Africa, Jamaica and Paris. After nine years in Kingston, she released "The Beauty of Jah Plan", which won Best Reggae Song 2014 at the Akademia Awards (USA).

~ Mamakaffe becomes the first African artist to be distributed by
VP Records. In 2017, his debut album, "HT", was listed for the "Grammy Awards" category "Best Reggae Album". Reggae.fr ranks it second in the "Best African album" category.
The SLAVE album is widely praised by journalists.
AND MORE JAMAICAN ARTISTS 🇯🇲
Come Enjoy 🔥