THE BIG HUMBOLDT JAM VIRTUAL CONCERT ON SATURDAY, JANUARY 23 FEATURES PATO BANTON, BOBBY VEGA, GEORGE PORTER, OBJECT HEAVY, MORE! TICKETS NOW AVAILABLE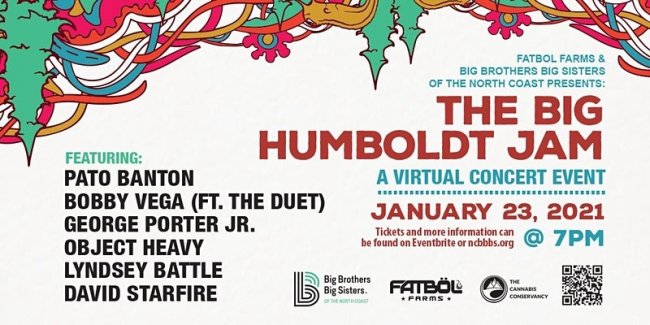 FatBol Pharms and Big Brother Big Sisters presents The Big Humboldt Jam virtual concert on Saturday, January 23 at 7 p.m. to benefit mentoring in the community! The event features local and national talent such as Pato Banton, The Duet with Bobby Vega, George Porter Jr., Object Heavy, Lyndsey Battle, David Starfire, and more, and is filmed right at the historic Eagle House in Eureka!
 
Tickets start at just $15 and all proceeds benefit Big Brothers Big Sisters of The North Coast.
 
Get your tickets now for this exciting music event and kick off the New Year and celebrate National Mentoring Month with fun music and conversations with our very own community members.
 
If unable to join us on Jan. 23, that's okay! Tickets will be valid for one week!
 
You can get tickets for The Big Humboldt Jam on Eventbrite or find the link on Big Brothers Big Sisters' website, ncbbbs.org.