Thursday, September 22, 2022
"The Bigga Bagga Riddim Tour"

UB40
The Original Wailers – Maxi Priest –
Big Mountain

Truckee River Regional Park
Outdoor Amphitheater
Truckee, CA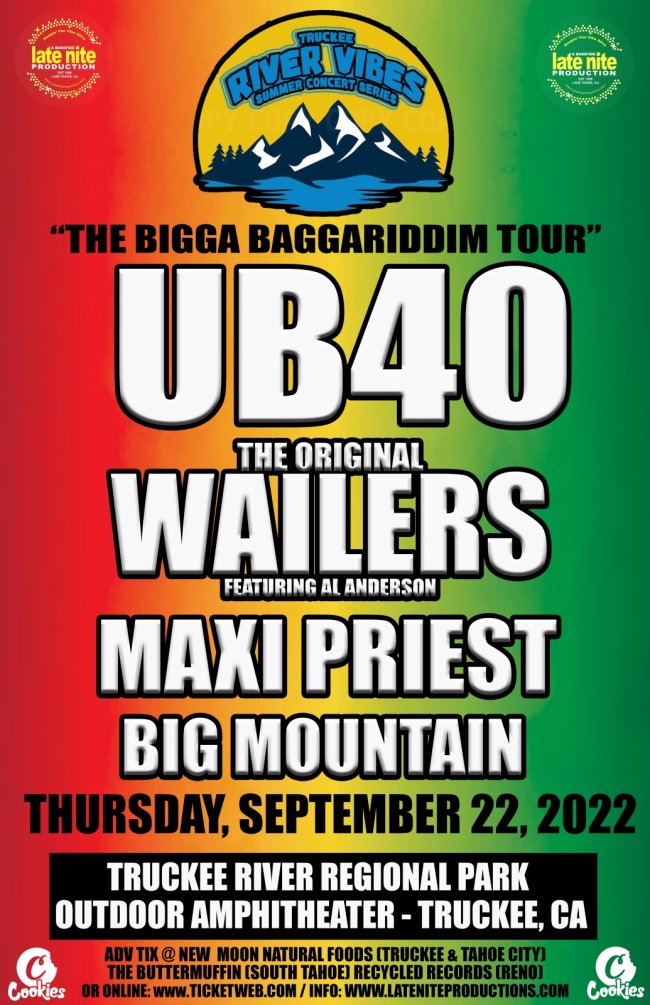 Late-Nite Productions is proud to present "The 2022 Bigga Bagga Riddim Tour" featuring UB40, The Original Wailers, Maxi Priest and Big Mountain, live at Truckee River Regional Park Outdoor Amphitheater outdoors

~ Under the stars in beautiful Truckee, CA ~


$65 Advance tickets:
New Moon Natural Foods
(Truckee & Tahoe City)
Recycled Records (Reno)
The Buttermuffin (South Lake Tahoe)

Online at Ticketweb.com
($10 increase day of show)

All ages are welcome! Kids 6 and under are free.

Festival atmosphere complete with world class music, local vendors, food trucks, beer and wine, beverages and live art!

UB40 are an English reggae and pop band, formed in December 1978 in Birmingham, England. The band has had more than 50 singles in the UK Singles Chart, and has also achieved considerable international success. They have been nominated for the Grammy Award for Best Reggae Album four times, and in 1984 were nominated for the Brit Award for Best British Group. UB40 have sold over 70 million records worldwide.

With massive hits like "Red Red Wine" and "Can't Help Falling in Love With You," UB40 became one of the biggest names not only in reggae but in pop music in the 1980s and '90s. The name "UB40" was selected in reference to an attendance card issued to people claiming unemployment benefits from the UK government Department of Employment. The designation UB40 stood for Unemployment Benefit, Form 40.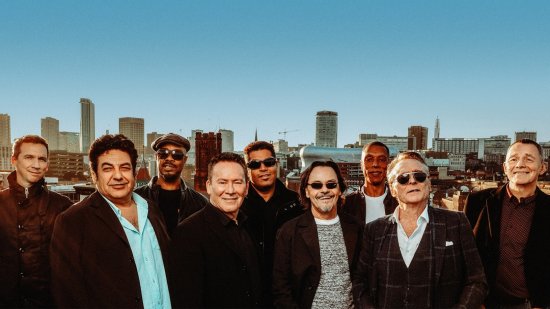 The Wailers rewrote the history books as Bob Marley's band, and today under leader Al Anderson, they carry the flame for the past and light the way forward. Both The Wailers and UB40 are credited to the world-wide attention and success of the genre of Reggae Music as a whole.

Maxi Priest scored huge hits like "Close to You" by bringing together the sounds of reggae with R&B, while Big Mountain's cover of "Baby, I Love Your Way" brought their sun-soaked sound to the masses.

Big Mountain is a world renowned American reggae band known for its remake of Peter Frampton's "Baby, I Love Your Way",
which became a top 10 hit single in the US in early 1994, reaching # 6 on the US Billboard Hot 100, #1 on the Mainstream
Top 40 and # 2 in the UK

Doors open at 3pm / 4pm Show

Live Art, DJ's, Local Food & Drink and more!
Facebook Page
UB4O Website
Facebook Event Page
Ticket Link

Promoter Contact:
Billy Drewitz
Late-Nite Productions
Call / Text 408.667.0992
latenitebilly@hotmail.com
www.LateNiteProductions.com

Facebook Event Page