First Round Of Roots Reggae Performers Announced!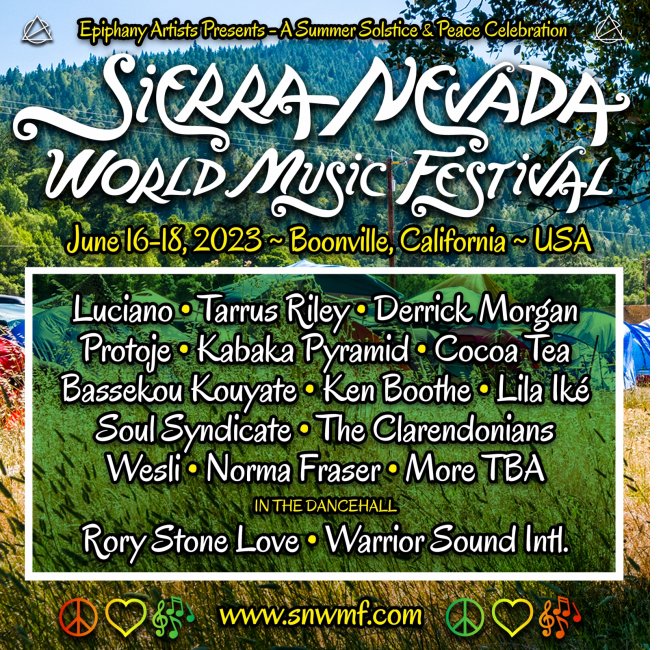 SIERRA NEVADA WORLD MUSIC FESTIVAL
June 16, 17,18, 2023 
Boonville, CA
Epiphany Artists is pleased to announce the first drop of the artist roster for Sierra Nevada World Music Festival 2023, June 16, 17, & 18, 2023 at the Mendocino County Fairgrounds in Boonville, California.

It's the 26th Summer Solstice & World Peace Celebration! After a four-year hiatus due to the pandemic and the death of founder/programmer Warren Smith, the SNWMF team follows Warren's path and stays true to our Roots!

❤️ SNWMF 2023 is for Warren ❤️

 CHECK THIS LINE UP 
🔥🥁🇯🇲🌍🎼
LUCIANO • TARRUS RILEY • DERRICK MORGAN • PROTOJE • KABAKA PYRAMID • COCOA TEA • BASSEKOU KOUYATE • KEN BOOTHE • LILA IKE' • SOUL SYNDICATE • THE CLARENDONIANS • WESLI • NORMA FRASER 

In the Dance Hall: RORY STONE LOVE • WARRIOR SOUND INTL. Many More Artists TBA!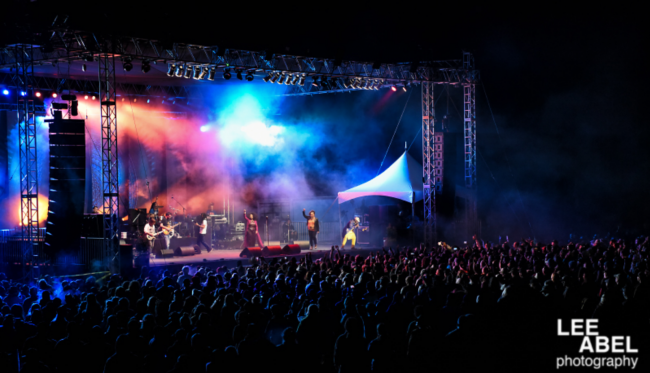 3 Days of the Very Best Roots Reggae & World Music!
With two stages, along with a "Jamaican style" Late-Night Dancehall, SNWMF is a great way to kick off your summer!
The festival is very family-friendly with an extensive array of children's activities, including arts and crafts, dance & music workshops, a festival parade and family and alter-able camping.
With its beautiful streaming colors and exotic aromas, the Festival Village is an attractive marketplace of food & craft booths. The vendors are hand-picked to provide an exciting selection of international cuisine & arts.
Advance Tier 1 (3-day) music tickets are $240

 Limited on-site camping is $140 per car/SUV.
Camping must be purchased separately.
Kids 12 and under are free.
The Sierra Nevada World Music Festival is dedicated to nurturing a world family peacefully united in celebration of the universal spirit of music. We invite you to come celebrate with us!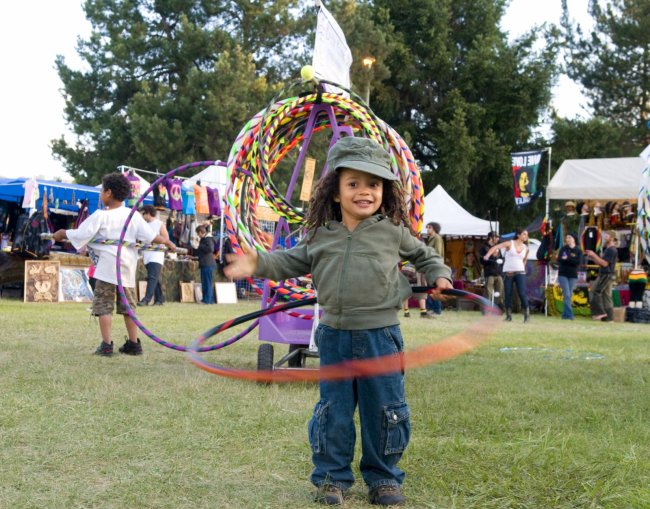 The Mendocino County Fairgrounds in Boonville, CA, is nestled in the Anderson Valley, surrounded by rolling hills dotted with old-growth oak trees. It's beautiful, just a perfect setting to celebrate the Summer Solstice & World Peace.

Boonville is just over two hours north of San Francisco and less than three hours from Sacramento.

SNWMF has become a beloved tradition and attracts music lovers from around the world who prefer an intimate, good vibes, independently produced festival.

FACEBOOK INSTAGRAM www.SNWMF.com

SNWMF • PO BOX 208 • RYDE, CA USA 95680 
General Questions & Ticketing:  info@snwmf.com
Vendors:  Vending@snwmf.com
Media:  rbapublishing@gmail.com